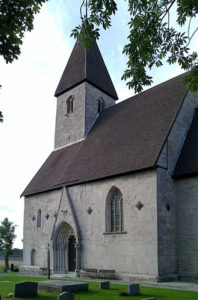 See introduction to Mass Tourism series here for the motivation behind these essays.
This week I did not visit a local parish or go to Mass while on vacation. I did not participate in some Eastern rite of the Catholic Church as I am wont to do. No, this time I went to the small Endre parish— located one mile east of Visby on the island of Gotland, Sweden built in the 12th century—where Fr. Anders Piltz celebrated the Holy Sacrifice of the Mass on October 5, 1450, the 18th Sunday after Pentecost, many years before the Protestant Reformation.
Fortunately, I was somewhat prepared, having studied the traditional rite as it was celebrated for 400 years from the Council of Trent to Vatican II. But this was even before the establishment of the Tridentine Mass and there are several differences.
Endre has distinctly older components, specifically a rood screen that separates the people from the priests and all liturgical activity. It is only until communion that the faithful cross into the sanctuary to receive the consecrated bread kneeling down. A small version of what looked like an iconostasis stood above the altar.  Thin narrow stained glass windows punctuated the front and sides of the sanctuary. A roughly crafted crucifix hung under the pointed Gothic arch in front of the public area. The nave was walled solid with fading frescoes. A dull, cacophonous bell was sounded at the usual parts of the ritual.
The rite was, of course, in Latin and many of the liturgical formulas (Gloria, Credo, Sorsum corda, Sanctus, Agnus Dei) are exactly the same as we use in the current Novus Ordo Latin rite although the responses were not provided by the people but by a professional cantor. Some responses were not evident, such as the Confiteor or Suscipiat. The vesting prayers I could not equate to those I studied in Latin class but I understand these can vary. The Mass readings and specific prayers for that Sunday in the liturgical calendar adhered to the 1962 Roman Missal I possessed. The priest stood ad orientem as was the norm prior to Vatican II and is presently being revived. The incensing of the altar and then toward the people prior to the Liturgy of the Eucharist is exactly as is done at St. Catherine's most Sundays. Much of the intonation was barely audible as parts were conducted discretely. This was the practice for centuries—the sacredness and mystery of transubstantiation was too prone to misunderstanding and vulgarization, and catechumens were dismissed before the Eucharistic Liturgy as a precaution.
Even though the liturgy of the Mass has changed, it's astounding just how much of it is still intact and recognizable over five and half centuries later including an overhaul of the rite in the early 1960's. Should you also wish to travel back in time and witness what Mass was like to ordinary people, simply click here.
And bring an old missal.